Welcome to the

Teenage Bounty Hunters Wiki!
Teenage Bounty Hunters is a 10-episode American comedy series that tells the story of sixteen-year-old fraternal twin sisters Sterling and Blair Wesley. Rebelling against their buttoned-up Southern community, the teens team up with veteran bounty hunter Bowser Simmons for an over-the-top adventure as they dive into the world of bail skipping baddies and suburban secrets while trying to navigate high school drama—love, sex, and study hall.
Created by Kathleen Jordan, who also wrote and co-executive produced the show, Teenage Bounty Hunters features Maddie Phillips, Anjelica Bette Fellini, and Kadeem Hardison in the lea, while Jenji Kohan, Tara Herrmann, Robert Sudduth, and Blake McCormick complete the team of executive producers, with the first episode directed and executive produced by Jesse Peretz.
Teenage Bounty Hunters premiered on Netflix on August 14, 2020.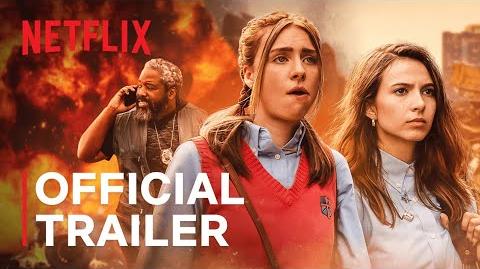 Teenage Bounty Hunters Wiki was created to become the biggest online resource for all information regarding the Teenage Bounty Hunters franchise. This encyclopedic database contains information on all sorts of subjects, ranging from "in-universe" articles such as characters, episodes, and events to pages on the cast and crew.
Come have a chat with us about the show in our Discussions, or even sign up for an account and help to expand our ever-growing database of content!